Knowing How to Live
or The Revolution of Everyday Life Part 1 An Illustrated Reader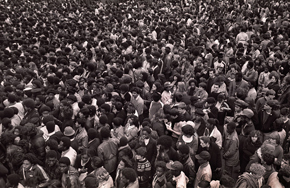 Raoul Vaneigem's classic situationist text launches a blistering attack on the reduction of western life to boredom, consumerism, fragmentation, sacrifice, packaged 'happiness' and meaningless interactions, while all that is vibrant is deported into the illusion of the spectacle. First published in 1967, the text has proved prophetic about life in the 21st century. Vaneigem's visionary thoughts have inspired generations of free thinkers. This reader is complemented by a 'spectacular' set of original photographs.
'... affluence and its comforts are only the children of capitalist productivity, children doomed to age prematurely as soon as the marketing system has transformed them into mere objects of passive consumption.'
'We have nothing in common except the illusion of being together. Certainly the seeds of an authentic collective life are lying dormant within the illusion itself - there is no illusion without a real basis - but real community remains to be created.'
Photographs by an Invisible Photographer.
21 x 15cm, 166 pages.
Including 55 pages of B&W photographic and graphic illustrations.
Price £12 plus p+p (which amounts to a total of £15 for the UK, £17 for Europe, £20 for the rest of the world).
Or you can send us a cheque with a clear return address and you will receive the item within 28 days.
Just Press: Celebrating the unorthodox